By Hannah Couch
At the NFL Combine, football skills and talent are not the only things that college players are judged on by the professional teams and coaches. Game strategy and knowledge are tested through an actual pencil and paper exam. Media presence and composure are examined through several press conferences and intense interviews. And character is assessed through not only the effort exemplified by the players throughout the entire grueling process including the personal interviews, but by social media as well.
Because of several scandals caused and/or revealed by these aspiring professional athletes' social media accounts the past couple of years, including the most noteworthy story involving the catfishing hoax with former Notre Dame linebacker Manti Te'o, many NFL coaches and team personnel agree that social media has never been such an important part of the combine process as it is this year. One coach even noted in an interview with USA Today that he has several members of his staff whose jobs are to keep track of every potential players' social media accounts in order to get a better look at who this person really is on and off the field.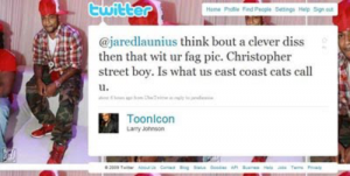 While pictures of illegal paraphernalia and activities will obviously contribute to ruining the chances an athlete has of being recruited, coaches have commented that too many "goody-goody" posts can be somewhat annoying as well, such as tweets about getting up at 3 a.m. to work out when the typical combine day doesn't start until later in the morning. Overall, coaches are saying that they want to recruit guys who show that they have a good balance in all acts of their life and that the media will be publishing stories more about what they're doing on the field rather than what they're tweeting about.
However, the NFL continues to be known as an "old-school" industry. Most coaches and staff would rather players to not tweet or participate in social media at all. The positive stories in the press involving professional athletes' social media usage and engagement with their fans and followers are a lot less newsworthy and do not receive as much attention as those that show these players in a more negative light. For example, the often inspiring and encouraging tweets from Kirk Cousins and Tim Tebow are rarely, if ever, featured in news segments and columns, but the Manti Te'o controversy made headlines for weeks.
The NFL has taken advantage of social media fan engagement through franchise accounts though. In a recent article by Jennifer Van Grove, the various marketing and public relations agencies hired by the League are all working to get the most out of social media, whether that may be keeping fans up-to-date on practices, monitoring individual coaches' and athletes' on the team accounts, researching what fans are saying about the team, promoting events and campaigns or, of course, updating fans on what coaches and team staffs are experiencing at the infamous NFL Combine. The NFL is now realizing how important social media is when connecting to and driving its fans, which they hope will lead to an indirect increase in their main revenue driver: ticket sales.
Tags: Manti Te'o, NFL, NFL Combine, social media, twitter