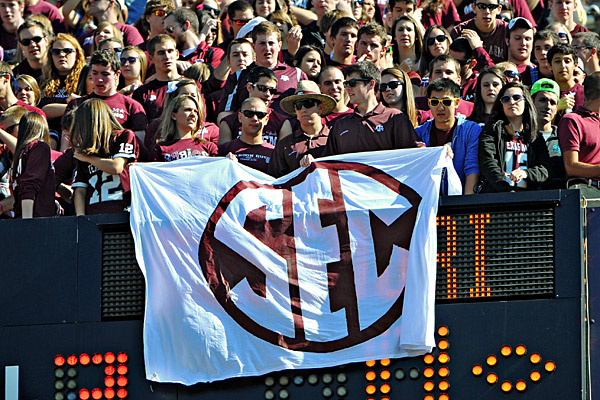 By Angelene Crosswell
This weekend the Texas A&M Aggies and Missouri Tigers played their first games in the SEC. Both former Big 12 teams played ranked SEC teams on their home field and both faced similar outcomes. Texas A&M lost to Florida 20-17 and Missouri lost to Georgia 40-21. After a long off-season of preparing for their SEC opener, both teams fell short of their hopes, but maybe not of their expectations.
Although both teams lost, they proved themselves to be worthy of the Southeastern Conference. Texas A&M was leading 17-7 with seven minute to go in the first half. Unfortunately for them, Florida scored 13 unanswered points the remainder of the game. Still, they only won by three points, definitely not a bad showing for their first SEC game. Click here for a full recap of Texas A&M vs. Florida.
Missouri faced a tougher loss, but still played well. Missouri led 10-9 at half-time and was still not far from a win late in the third quarter until Georgia's linebacker, Jarvis Jones, took matters into his own hands. Missouri kept Georgia fans on the edge of their seats for most of the game and, despite the loss, definitely proved their worth in the SEC. Click here for a full recap of Missouri vs. Georgia.
This weekend Texas A&M and Missouri proved that they belong in the SEC both on and off the field. Despite giving up their half-time leads, both teams played admirably. But, maybe more important than that, these schools reflected the SEC spirit. Texas A&M fans filled every seat at Kyle Field cheered their team on in true SEC fashion. The atmosphere of the stadium already fits in with the SEC and the crowd rivaled that of many other SEC teams. The "Home of the Twelfth Man" is definitely at home in the SEC and cannot be overlooked.
The intensity of Mizzou fans was visible from just watching their game on Saturday. Even if their students haven't yet conformed to the dressy SEC game day attire, their fan base is certainly a force to be reckoned with. It was clear that Missouri was proud to be a new member of the SEC, with several SEC logos prominently featured in the stadium. SEC commissioner Mike Slive said in an interview with the AJC that "you can't walk downtown for five steps without seeing an SEC logo."
Hopefully Texas A&M and Missouri will bounce back from these losses and show the SEC what they can really do on the field this season. Despite the final scores, both teams proved this weekend that they belong in this conference and maybe with a bit more practice they can learn to play some "grown man football" and earn the respect they deserve from the SEC.