By Alan Carroll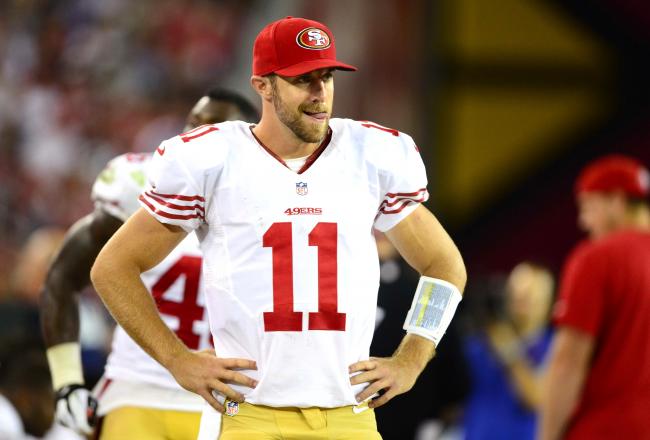 The Kansas City Chiefs made waves last Thursday when they traded their second-round pick in the 2013 draft and a conditional mid-round pick in 2014, to the San Francisco 49ers for veteran quarterback Alex Smith. This comes following a year in which Smith lost his starting job to Colin Kaepernick, after being forced to sit out for a few games midway through the 2012 season due to a concussion. At the time, the decision by Coach Jim Harbaugh was the subject of much debate and controversy since it seemed that Smith had done little to deserve losing the starting job. At the time of his demotion, he had lead the 49ers to a 6-2-1 start and was completing just over 70% of his passes; hardly stats deserving a change. But Kaepernick was so explosive and dynamic in his debut blow-out against the Bears, Harbaugh made the executive decision to go with him for the remainder of the season. Now that the season is over and the 49er's failed their ultimate goal of winning a Super Bowl, we can only speculate as to what might have happened if the 49ers had stuck with Smith.
The 49ers did come close. They did make it to the Super Bowl, where a lackluster first half performance and controversial no-call for holding on what would have been a game winning touchdown cost them the game. In the game, Kaepernick had a 57.1 completion percentage, one touchdown, one interception and a total QBR rating of 46.1. It wasn't a completely abysmal game for him but it was by no means near what was expected after posting QBR's of 94.7 and 92.6 in the previous two play-off games. Despite this, Kaepernick still nearly pulled off a 22 point come-back, which was a quite a feat.  But would Smith have done better?
It was the first half that made the difference. The 49ers had numerous missed chances to score in the second quarter. If just one had been taken advantage of, a field goal would have sent the game into overtime or a touchdown would have won it. A few of the missed opportunities were due to errors by Kaepernick. He looked far more like the rookie he was than he did in his previous games. However, I really don't think Smith could have improved much. The main factor behind the 49ers first half woes was mistakes; by a number of players. Besides that, Kaepernick did play a big part in the second half comeback by continuing to be a running threat with his mobility; something Alex Smith lacks. Smith is a great passer. But against a veteran Raven's defense, I doubt Smith would have been able to have a stellar enough game to completely erase those errors; though it is possible.
Now Smith has been given a second chance to make his case that the 49es should have stuck with him. I firmly believe that the Chiefs made the right call in acquiring Smith. Matt Cassel and Brady Quinn certainly aren't going to take them where they want to go. With Jamaal Charles, Dwayne Bowe and a cooperative head coach in Andy Reid, Smith will have plenty of weapons to bring the Kansas City up to a higher level of competition.